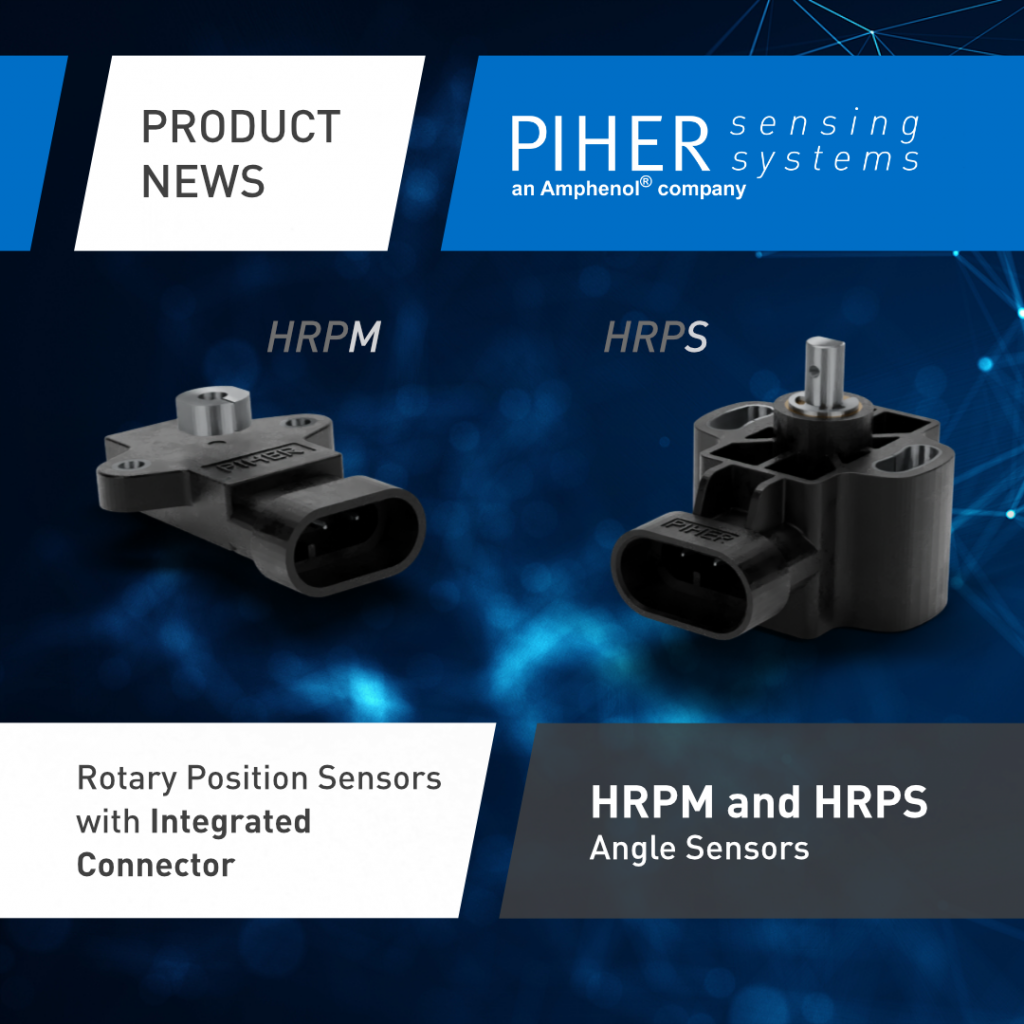 Extending our line-up of non-contact sensor for industrial, automotive, off-highway and marine applications, Piher Sensing Systems introduces the HRP series of Hall-Effect Rotary Position Sensor with integrated connector.
With 360-degree endless rotation, flange mounting for easy positioning, configurable angular ranges from 50 to 360 degrees, different pin-out options and support for low and high-voltage power supply, design engineers can leverage the sensors' adaptability to create innovative solutions.
IP69K sealing, robustness against humidity, vibration and shock make these sensors perfectly suited for harsh industrial, marine and transportation environments.
Built to Last
Based on magnetic hall-effect technology the HRP series operates without physical contact, ensuring an exceptional mechanical lifespan. This durability translates into reduced maintenance costs and high accuracy throughout its whole operational lifespan.
Easy Integration
The integrated AMP superseal connector offers Plug-and-Play functionality eliminating the need for manual wiring and soldering, allowing for easy and quick installation.
The HRPM is a two-piece sensor. with separate housings for electronics and magnet: the magnet is mounted on the actuated axis and without wear and tear due to radial forces, the reliability and lifetime are virtually unlimited.
On the other side, the HRPS is the end-of-shaft version where a magnet is securely fastened to the shaft and acts as the only moving component. An optional lever arm can be attached to the shaft for increased reach and flexibility.
360 degree absolute position feedback
Endless mechanical rotational angle without dead band, keeps the position on power loss with configurable electrical angles from 50 to 360 degrees.
True non-contact operation
Without any gears or mechanical interfaces the sensor is easily assembled and calibrated and subject to limited wear and tear over lifetime.
Made for harsh environments
The rugged package protects the sensor from dust, moisture, vibration and extreme temperatures for usage in the most demanding environments.
Transportation
Steering wheel angle
Pedal Position
Suspension/height detection
Fork height and mast tilt
Bucket position
Hitch position
Transmission gear shift
Marine
Steering and shifter sensor
Industrial
Autonomous warehouse robotics
Robotics and automation feedback
Robot arm position
Valve monitoring
Conveyor operation